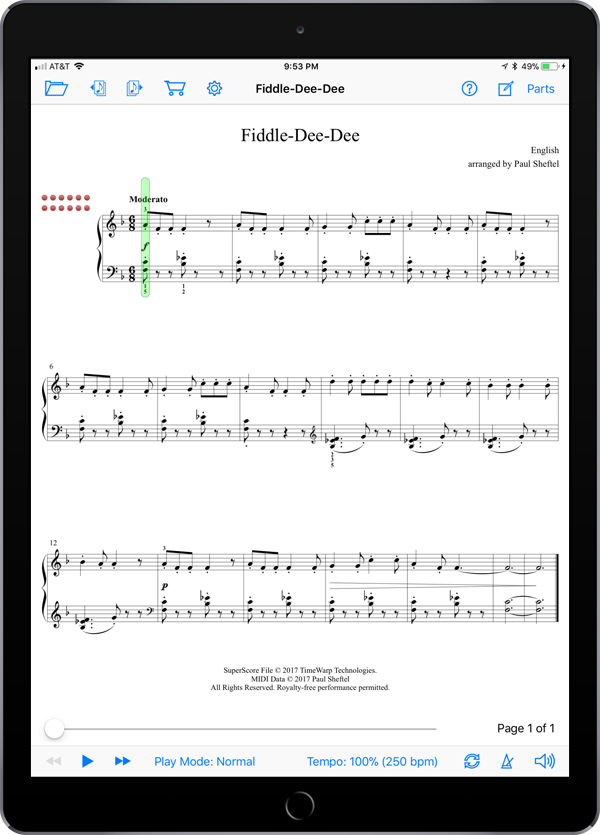 Folk Songs from Planet Earth Level 6
This publication features 21 folk songs from around the globe, arranged for piano solo with MIDI accompaniments. These are wonderfully tuneful pieces for early intermediate to intermediate players of all ages. Excellent sight-reading material.
Use these pieces with an acoustic or digital piano and enjoy the play-along experience provided by SuperScore!
Contents
'Round the Mulberry Bush (English)
A Sad Song (French)
Ally Galoo Galoo (English)
Belgian Chantey (Belgian)
Cadet Roussel (French)
Draw a Pail of Water (English)
Eency Weency Spider (American)
En roulant ma boule (Canadian)
Fiddle-Dee-Dee (English)
Gaelic Lullaby (Gaelic)
Looby Lou (American)
March (French)
Oats, Peas, Beans and Barley Grow (American)
Old Dutch Tune (Dutch)
Petit chanson (French)
Piñata (Mexican)
Qu'est qui passe (French)
Rosa (Flemish)
Sally Go 'Round the Sun (American)
The Coasts of High Barbary (English)
The Mill Wheel (German)
Enjoy these examples of music playback in SuperScore!
Folk Songs from Planet Earth Level 6

in SuperScore